Posts for tag: dental crowns
By Maritato Dental, L.L.C.
November 09, 2017
Restoring your tired smile is easy with the help of your dentist. However, in some cases, porcelain dental restorations like dental crowns or
bridges take several weeks and two or more dental appointments to complete. However, with CEREC, or chairside economical restoration or esthetic ceramics, you could restore your smile in a single dental visit with no long wait times or other inconveniences. Find out more about CEREC with Dr. Mario Maritato at Maritato Dental in Kenosha, WI.
What can CEREC do for me?
CEREC helps your dentist create porcelain dental restorations right in their office. These restorations include dental crowns and bridges, and other porcelain restorations. Choosing a dentist who is CEREC-certified and provides this valuable dental tool can save you time and money and provide you with high quality, natural-looking dental restorations which will last many years to come.
The Benefits of CEREC
While CEREC does require a wait time of about an hour, this is a fraction of the time that a dental laboratory would need to design and create a porcelain dental restoration. A laboratory usually has a turn around time of about two weeks and a clay impression of your mouth. This means that you would need to see your dentist twice, once before the process begins and once after the restoration is complete. This also eliminates the need for patients to wear a temporary restoration between their appointments. Additionally, CEREC uses high-quality materials that create durable and effective restorations.
CEREC Dental Restorations in Kenosha, WI
A CEREC machine has three main parts: a computer program, a special wand for taking a 3D impression of the mouth, and the actual CEREC machine itself which carves your restoration. Your dentist will use the wand to send a 3D model of your mouth to the computer program, where it provides a basis for the design of your restoration. From there, your dentist will tweak the design and choose the correct color porcelain to match your teeth. Then, your dentist will send the design to the CEREC machine, where the restoration is cut out of a block of ceramic. After some final touches, your dentist places your restoration permanently onto the tooth.
For more information on CEREC in the Kenosha, WI area, please contact Dr. Mario Maritato at Maritato Dental. Call (262) 657-0504 to schedule your appointment for a CEREC dental restoration with Dr. Maritato today!
By Maritato Dental, L.L.C
March 01, 2017
Undergoing traditional dental procedures can be a lengthy process, requiring several visits to your dentist's office, which, in turn,
requires several days off of work or school. Fortunately, you can now undergo a dental crown or bridge procedure in one single appointment, without needing to wait for a dental laboratory to create the restoration by hand. CEREC dental restorations are fast, easy, and save you time and money. Learn more about CEREC with Dr. Mario Maritato at Maritato Dental in Kenosha, WI.
What is CEREC?
CEREC, which stands for Chairside Economical Restoration of Esthetic Ceramics, is a system which allows dentists to eliminate the laboratory step from porcelain dental restorations. This also eliminates the time spent waiting for a dental laboratory to create a restoration, allowing dentists to complete the process in a single visit rather than spread out over two appointments. CEREC only uses the most quality materials, meaning your dental restoration will last for years to come.
How can CEREC benefit me?
CEREC's system uses a 3D impression of the mouth, making physical dental impressions, which are notoriously cumbersome and unpleasant, obsolete. Instead, your dentist uses a special wand to take pictures of your mouth to use in the design process of your restoration. Additionally, CEREC cuts out the dental laboratory from the creation of your restoration, saving you from the wait times associated with it. This will also save you a day off of work or school as your dentist can complete the restoration procedure from start to finish in a single visit.
CEREC Dental Restorations in Kenosha, WI
CEREC creates porcelain dental restorations like crowns and bridges. Dental crowns help stabilize a broken or damaged tooth or a tooth with a large filling. They can also improve the appearance of an unsightly tooth or hold a dental bridge, which replaces a missing tooth, permanently in place. If you think you could benefit from a single visit dental crown or bridge, you should consult with your dentist.
For more information on CEREC dental restorations, please contact Dr. Maritato at Maritato Dental in Kenosha, WI. Call (262) 657-0504 to schedule your appointment with Dr. Maritato today!
By Maritato Dental, L.L.C.
February 15, 2013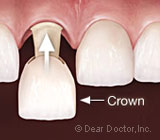 Creating a dental crown that looks good and wears well is not an easy achievement. It is the result of good communication you, the patient, have with us, your dental professionals, and that we have with the dental lab that manufactures the crown. In addition, it reflects the quality of work done by us and by the lab technician.
What is a dental crown?
A crown is a dental restoration that surrounds the remains of a damaged tooth or is attached to a dental implant so that it resembles a natural tooth as it extends above the gum line. The choice of materials and appearance of the crown depend upon many factors. One is the location of the crown. If it is in the back part of your jaw, strength and wear will be a major factor. If it is in the front, a life-like appearance will be important.
What goes into making a good-looking and functional crown?
Options for crown materials include porcelain, gold, porcelain fused to metal (called PFM) and some newer materials such as "pressed-ceramic" restorations and computer-milled-ceramics.
You as the patient can have a say in choosing the crown's color and appearance. Before it is cemented into its final position, make sure you are happy with the feel and appearance of your new crown.
Gold is often chosen for crowns on back teeth because of its superior wear qualities. Gold crowns have been known to last more than 50 years. They also cause minimal wear to the teeth that they touch on the opposing jaw.
Crowns made of porcelain (a glass-like substance fired in an oven at a high temperature) look good but may be too brittle to stand the wear and forces given to back teeth. Like glass, they can fracture under pressure. But because of their lifelike appearance they make a good choice for visible front teeth.
PFM (porcelain-fused-to-metal crowns) are a good combination of the best of gold and porcelain, but they sometimes lose the stains applied to make them look natural, and occasionally they fracture away from the metal.
A provisional crown can help you make sure you are getting a crown with the qualities you want. With the provisional crown all the details are worked out ahead of time, and you get a chance to try them out to make sure the crown looks good and that you can eat and talk normally. After you give your approval on the provisional crown, the final crown will be made to match it, in longer-lasting and better quality components.
Contact us today to schedule an appointment to discuss your questions about crowns and other dental restorations. You can also learn more by reading the Dear Doctor magazine article "Gold or Porcelain Crowns."